Quality Control System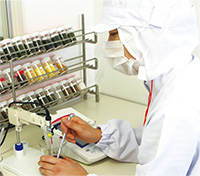 The Hiroshima plant of Mishima Foods obtained HACCP (Hazard Analysis Critical Control Point) certification in 1998. The certification marked the global accreditation of the safety and high quality of our products. The Kanto plant also obtained HACCP certification from the Ministry of Health, Labour and Welfare in November of 2001. Furthermore, certification for the international standard ISO14001 was obtained at the Hiroshima plant in December of 2001 and at the Kanto plant in December of 2006. The Dalian plant in China also obtained certification in July of 2012 for the international standard ISO22000 for a food safety management system (FSMS) that enables food to be safely provided to consumers based on the food hygiene management method for HACCP.
Based on this solid system, the Mishima brand is making a bold step forward toward the global delivery of next generation foods.